This tutorial was written by me and any resemblance to other tutorials is purely coincidental. PLEASE DO NOT REMOVE this tutorial from Ladyhawwk Designs.

How to Use a Template
Have you seen all those great tag templates out there, download it, open it up in PSP then try to figure out what to do with it?
I know I did LOL After following a few tag tutorials where they used a tag template I found they are VERY easy and fun to use. You can create some great tags fairly quickly using them.

You will need
1. A template of your choice
I am using a great template that was originally created by Ms. Diva's Kreations Template #11 Unfortunately Ms. Diva no longer has a blog so I will supply the template here. If Ms. Diva puts her blog back up I will change the link back to her blog.
You can download HERE

2. A tube of your choice

Let's Get Started

1. Open up the template in PSP. Duplicate the template by clicking on your "Shift" Key and "D" and close your original (to save for future use)

2. You will notice that it will have numerous layers. Each layer is one of the shapes that make up the template. Go over to your layer pallette and right click on the layer with the template makers watermak and delete it. You can also delete the bottom layer of the template as well if it is just a solid color layer.

3. Open up the tube you want to use for your tag (I do this so I can match up colors from the tube to make my template with)
(see print screen below for where I'm at this far)



4. Click on your magic Wand tool which you will find along the left hand side of your tool bar
(see print screen below)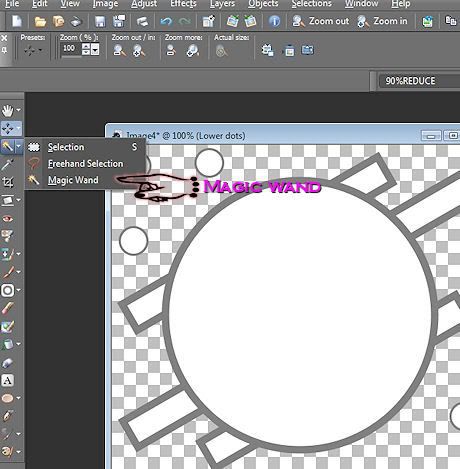 I have my settings set at
Mode - Add(shift)
Match Mode - RGB Value
Tolerance - 1
Contiguous box - CHECKED
Feather - 0
Anti Alias Box - CHECKED
Outside
(see print screen below for settings)



5. Click on in your layer pallette, the first layer you want to add color to, to make it active. In my case I'm going to start on the bottom layer (lower dots)

6. With your magic wand set, click inside each of the three dots (you will see marching ants around the dots)

7. Go up to your top tool bar and select "Selections", "Modify", "Expand"
(see my print screen below)



Then set your Number of pixels setting at 2
(see print screen below)

8. Click on your Foreground and Stroke Properties on your materials pallette and choose a color you'd like to flood fill with. What I like to do is once my foreground color box comes up I hover my mouse over an area of my tube I'd like to match the color up with. Once I've found a color I like from my tube by hovering over it I click my mouse once and that sets the color in my stroke properties.
9. Click on your flood fill tool and click inside one of the circles that you have previously selected with your magic wand. It should fill all three circles you had seleted.
(see my print screen below)


10. Now go back up to "Selections" then "Select None" or hit Ctrl & D on your keyboard.

11. Click on your magic wand tool again and by using the same settings as in step #4 click around the outer edges of the circles you just filled (you will see the outer edge is grey). You may have to zoom in to see the area a bit easier in order to click in it.

12. Once all three outer circles have been selected using your magic wand tool repeat steps #7 & 8. I decided to use a darker color to flood fill this area with.
(see my print screen below)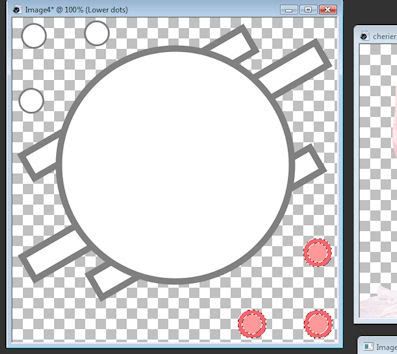 13. Now "Selections" and "Select None"

14 You have now just completed the steps you would take in using a template. You will use this exact same procedure as listed above for every layer of the template.
For example I next clicked on "circle" layer on my layers pallette and proceded with steps #4 to #13. The only difference is I used a gradient to flood fill the inner part of my circle. Then I filled the outer part of my circle with white.
(see print screen below)





15. I then proceded to follow steps steps #4 to #13 for each layer of my template using different colors, gradients etc to flood fill all the different layer shapes. You can see what I finished up with in the print screen below. You can see on my layer pallette all the different layers individually flood filled.



16. You are now done the basics of how to use a template. You can then "merge visible" all of your layers then afterwards you can add any accents to it you'd like, word art, tubes and proceed to make a tag from it.

You can see the different things I added to mine below to get a completed tag. I added a layer right at the bottom and flood filled it with a color matching my tube and applied a mask, I added some "noise" to the center of the circles and in my main large center circle I added a brush effect, added my main tube and some text. Aside those few things that's all I've added to the template to make a tag.







© Ladyhawwk Designs

HOME